CHRISTA MACFARLANE


Artist / Art Instructor
Biography
Growing up in Kansas, running through the wide-open spaces of cattle fields blanketed in flowing wild grasses, instilled in MacFarlane an appreciation of nature. While listening to the whistling chorus of crickets cutting through the summer breeze, she would often pause to release the seeds of a dandelion, notice the shimmering light through the dancing leaves of the treetops and feel the fluidity of the cool stream water rushing through her fingertips. These experiences provided her with the freedom and opportunity to dream, explore and nurture her creativity—much like the process of her painting today. MacFarlane's strong illustrative skills, honed from a young age, loosely depict her subject matter in her multi-layered botanical paintings.
Putting down roots, with her husband and two boys, in Colorado provided her with the opportunity to continue to connect with nature on her daily walks through the trails of the wild west. Earlier works provided a zoomed in view of native grasses, seeds and weeds while placing these overlooked beauties of nature into a well-deserved spotlight. Dandelions still pop up in her work on occasion but looking up to the treetops and into nature's vistas provides renewed inspiration. The latest collection of her work incorporates the feminine figure merging with her beloved botanicals.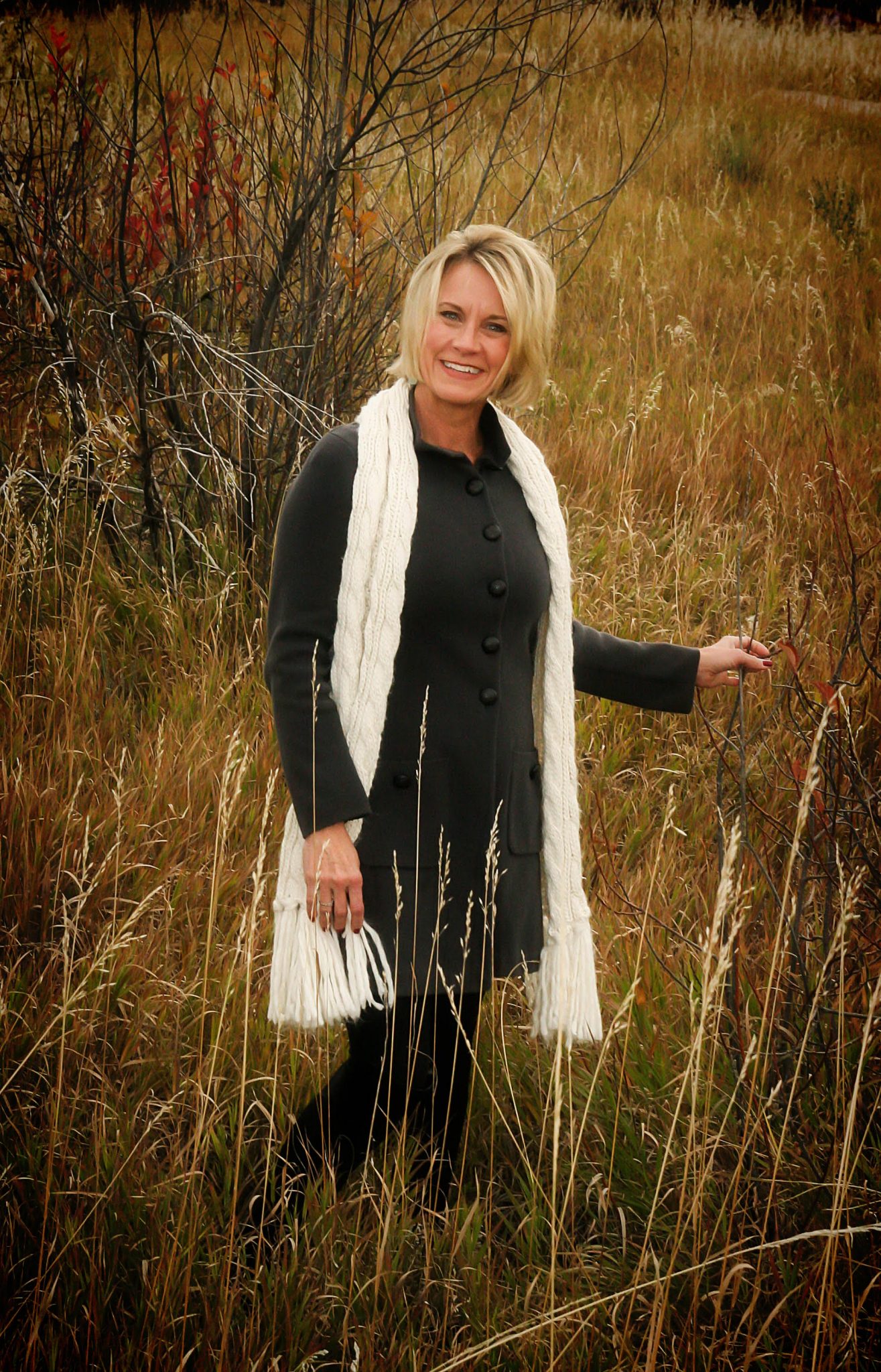 Artist Statement
Daily walks throughout the fields and trials of Colorado finds me imagining nature taking on human like qualities. Just like the instincts of a person surviving in unlikely circumstances, weeds and other wild botanicals reveal their tenacity to live in dire circumstances. Some of our deepest human desires are reflected in nature: to love unconditionally like the passionflower; to trust like the solid qualities of wood; to find hope in the flowing wishes of dandelion seeds; to connect like the dancing fields of grasses, and to be seen like the tiniest beautiful blooming weeds. My acrylic botanical paintings and my recent feminine silhouettes, often represent a message or story reflecting my life, my philosophy on life or a snapshot of life itself. Adding symbolism and recognition to otherwise overlooked parts of nature intrigues me. Although the subject matter that I paint is often made up of the ordinary, it certainly challenges me to find deeper meaning in plant life reflecting the human spirit.
Resume
Representation
2023 RA Modern Gallery, Crested Butte, CO
2019 to present Rox Arts Gallery Cooperative Gallery, Littleton, CO
2015 to 2018 Outnumbered Gallery, Littleton, CO
Selected Solo Shows
2021 Healing Arts Exhibit, Littleton Adventist Hospital, Parker, CO
2021 Healing Arts Exhibit, Parker Adventist Hospital, Parker, CO
2018 Contemporary Botanicals, Mad Greens-Denver Art Museum, Denver, CO
2017 Healing Arts Exhibit, Castle Rock Adventist Hospital, Castle Rock, CO
2017 Transformation-A Seasonal Experience featured artist, Outnumbered Gallery, Littleton, CO
Selected Juried Exhibits
2023 All Colorado Show – Curtis Center for the Arts, Greenwood Village, CO
2021 Art on the Green – Curtis Center for the Arts, Greenwood Village, CO
2019 RMNW – Rocky Mountain National Water-media exhibit, CAE, Evergreen, CO
2019 Kaleidoscope, Arapahoe Community College, Littleton, CO
2018 Amuse Yeux, Foothills Art Center, Golden, CO
2018 Spring Art Show, Gallery 1505, Denver, CO
2017 Summer Art Market, Art Students League of Denver, CO
2016 Healing Arts Exhibit, Parker Adventist Hospital, Parker, CO
2016 Summer Art Market, Art Students League of Denver; Denver, CO
Selected Group Exhibits
2022 Instructors Showcase – Curtis Center for the Arts, Greenwood Village, CO
2019 Instructors Showcase – Curtis Center for the Arts, Greenwood Village, CO
2019 Art Studio Art Show – Home Studio, Highlands Ranch, CO
2019 Open Studio Tour -Women of Steele, Artists' Studios, Greenwood Village, CO
2018 Open Studio Tour -Women of Steele, Artists' Studios, Greenwood Village, CO
Education
BFA, Interior Design-University of Kansas, Lawrence, KS, 1986
Art & Design Professional Experience
Professional Artist, Denver CO, 2015-present
Commissioned Artist for a variety of clients, 1999-present
Graphic Artist
• CAE Link Flight Training, Marine Corps Air Station, Yuma, AZ, 1992-93
• Arizona Western College, Yuma, AZ, 1992
• The Graphic Angle, Yuma, AZ, 1989-1991
Interior Designer
• Inside Designs, New Bern, NC, 1988-89
• Browning Brothers, Corpus Christi, TX, 1987-88
• HNTB-Howard Needles Tammen and Burgendoff (Engineering, Architectural,
Design Firm), Kansas City, KS, 1986
Teaching and Instruction
Facilitator for Adult Creative Art Workshops, Metro Denver, 2010-present
Art Instructor for Adult Drawing & Painting Classes
• Curtis Center for the Arts, Greenwood Village, CO 2017-present
• Highlands Ranch Community Association, Highlands Ranch, CO 2017-present
• Craven Community College, New Bern, NC, 1994-1995
Director/Instructor-Art Enrichment Program, Cherry Hills Christian Elementary School,
Highlands Ranch, CO 2005-2015
Professional Development
Quang Ho & Kevin Weckbach – Artist Workshops, 2018, 2019
Michael Gadlin – Professional Artist/Mentor, 2013-2017
Kathy Beekman – Professional Artist/Art Career Coach, 2014-2022
Other Art & Design Activities
Fund Raiser, Food Bank of the Rockies, Denver, CO, Raising money to provide 400 meals from the proceeds of my art sales during the Covid-19 Pandemic, 2020
Volunteer Artist, Healing Arts Program, Denver, CO, Assisting with Visual Arts Workshops for Adventist Hospital Cancer Support Groups, 2016
Volunteer Artist, Wellspring Community, Castle Rock, CO, Empowering the lives of adults with special needs by assisting them with making pottery, 2016
Volunteer Guest Artist, Denver Family Crisis Center, Denver CO, working with children housed in a temporary home for children experiencing an abusive or traumatic situation. 1998, 2002
Awards and Grants
Merit Award for Artistic Achievement – Louisville Art Association National Fine Art Show,
Louisville, CO, 2015
Teachers Grant – traveling abroad studying art and architecture in Italy, 2011
First Place Screen Print Award – ASLD Art Educators Workshop, Denver CO, 2010
Scholarship awarded: New York Parsons School of Design 1981, NYC, New York and University of Kansas
National Art Award (Gold Key) – 1980
Publications
February 2020 Highlands Ranch Lifestyle Magazine, magazine, section Artists Palette, heading "Creative Expression" bylined article and images, page 19
Dec 3, 2015 Littleton Independent, newspaper, section Local Life, heading "Unappreciated Nature Gets its Due in Artworks", bylined article and images, page 16
Public Art Collections
PAH Oncology at Porter Adventist Hospital, Denver, CO
Urology Associates Littleton, Littleton, CO
Parker Adventist Hospital, Parker, CO
Private Collections
Throughout the United States and the country of Norway
Memberships
Art Students League of Denver, Denver CO, 2008-present
Denver Art Museum, Denver, CO, 2014-present
Colorado Watercolor Society, Denver CO, 2014-2019