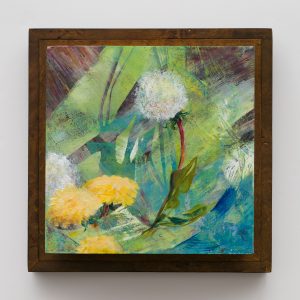 It all started with a dandelion in my initial body of work_painting 100 paintings within a year in 2014 and another 100 the next year. Now coming full circle, I'm painting these lovely weeds again! It's like seeing an old faithful friend! This immediately led me to painting beautiful weeds and wild grasses and other zoomed in botanicals. Which eventually led me to painting the supporting natural elements of botanicals_rocks and minerals, water and occasionally incorporating light pops. Every now and then I would venture into the animal kingdom, as my subject matter, but my heart lies within the community of hidden gems_the wild at heart_grasses, seeds and weeds.
See these paintings along with other new works at Art on the Green from 10:00-5:00 September 11th and 12th. This outdoor art market will feature my work along with close to 80 other artists work at Curtis Center for the Arts 2349 E. Orchard Rd., Greenwood Village, CO 80121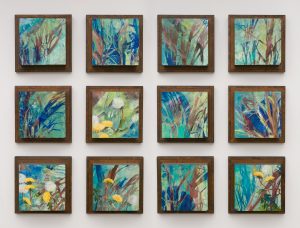 This 6 x 6 painting on 1-1/2″ deep wood panels is mounted on 7.5 x 7.5 wood which makes it very dimensional. They can be purchased as a group of 12 different paintings and hang together (seen on my website in my "Artwork Menu" under "Connections") or purchased and hung individually or in smaller groupings depending on your wall space (seen on my website in my "Artwork Menu" under "The Tenacious").